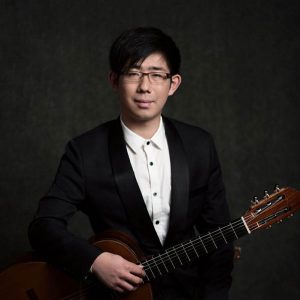 Born in Qingdao, China in 1985, at the age of seven,he began to learn piano under the guidance of his father. At the age of twelve,
he was instructed by the famous teacher Lu Peng of Qingdao. He progressed rapidly in a few years and began to emerge in some music activities. In 2000, in order to make progress to the top international standards, he studied under the famous guitar educator Chen Zhi from the Central Conservatory of Music in Beijing, specializing in classical guitar.After that, Wang's performance level made a breakthrough leap. In 2000, he won the runner-up of the 3rd International Guitar Competition in Hong Kong and was invited to record music programs for Radio Television Hong Kong.
In 2004, he was interviewed and accepted by the Mannes College of Music, Hopkins University, and the Peabody School of Music. In the same year, he entered the Roosevelt University in Chicago, USA, and studied under the American Guitar Foundation's director Pamela Kimmel and the famous classical guitar artist Sergio Assad. Bachelor Degree. During his time at school, he was among the best in professional performances and participated in various summer camp master classes. He was well received and praised by many classical guitar masters such as David Russell, Oscar Gia, and Bitt.In 2009, he obtained an undergraduate degree with excellent results, and held a graduation concert at the Ganz Concert Hall in Chicago.
The performance was well received, and he was invited by Roosevelt University to give a full scholarship to the master. He studied under the famous classical guitarist Dennis A. Denis Azabagic.During his stay in the United States, Wang You won many professional competitions in the United States and internationally, including:
The winner of the first Louisville International Guitar Competition, The 5th Boston International Guitar Competition, North Carolina's 17th International Guitar Competition, Runner-up in the Columbus International Guitar Competition, The 2nd Indiana International Guitar Competition champion, The 2013 American Guitar Foundation International Competition (GFA) is the fourth in the open group.